NIHRC consultation response: NI Affairs Committee Inquiry into the Experience of Ethnic Minorities and Migrants in NI
Last Updated: Wednesday, 23 June 2021
Date produced May 2021.
Below is a summary of the recommendations.
You can also download the full document through the links provided.
The NI Human Rights Commission (NIHRC):
The Hate Crime Review Team recommendations are implemented in NI to ensure better protections for victims of racially motivated hate crime.
2.12 that in light of the acute levels of anti-Traveller racism and to ensure the recording of disaggregated data, that hate crime law recognises the specific harm of hostility to Travellers, Roma and other non-settled people is recognised it as a particular characteristic of hate crime.
3.9 the experiences and challenges that face travellers, Roma and other non-settled people in NI are recognised.
3.10 that the Unauthorised Encampments (NI) Order 2005 is repealed.
4.7 the introduction of legislation that will strengthen, simplify and harmonise equality law within a Single Equality Act.
4.14 the introduction of legislation providing for intersectional multiple discrimination claims in NI.
4.17 the Executive Office implements the outstanding recommendations from international human rights treaty bodies to reform the Race Relations (NI) Order 1997 without further delay.
4.18 that effective steps are needed to ensure data collection on racial equality is consistent, extensive and disaggregated to capture to experience of ethnic minorities and migrants living in NI.
5.7 effective measures to ensure the accessibility and availability of quality health-care services to migrants and persons belonging to ethnic minorities. Including effective steps to identify and minimise procedural barriers to migrant women accessing healthcare. This includes introducing guidance for healthcare professionals on providing effective access.
5.10 the Crisis Fund is put on a permanent footing, with guaranteed funding. In the long-term, the Commission continues to recommend that the UK Government and NI Executive address the causes of destitution in the first instance, rather than rely on a discretionary fund to address destitution when it emerges.
5.11 the UK Government and NI Executive to introduce measures to guarantee targeted support to all those living in poverty or at risk of poverty, including asylum seekers, refugees, migrants and other vulnerable groups.
5.14 that the No Recourse to Public Funds condition is suspended immediately for at least the course of the pandemic.
5.15 In the absence of not suspending the No Recourse to Public Funds condition, that Discretionary Support payments are not treated as 'public funds' for immigration law purposes to enable such individuals and families to be eligible for such payments.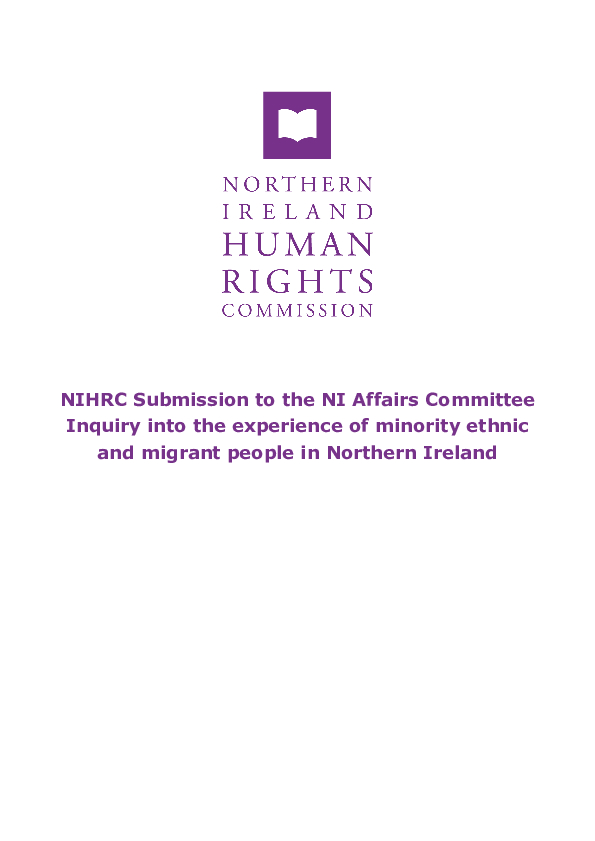 ---
---