NIHRC Response to Department of Justice Consultation on Non-Fatal Strangulation
Last Updated: Thursday, 14 October 2021
Date produced September 2021

Below is a summary of the recommendations/messages
You can also download the full document through the links provided.
the Department of Justice introduces legislation that creates a standalone offence for non-fatal strangulation in order to comply with the positive obligations under Articles 2, 3 and 8 ECHR.
the UK government ratify the Istanbul Convention and the Department and NI Executive take the appropriate steps to ensure compliance with all aspects of the Convention.
the proposed legislation should include an element that protects against gender-based violence, using the UN CEDAW, UN CAT and Istanbul Convention as a guide.
the Department introduces legislation to outlaw the use of consent to harm for sexual gratification as a defence and that the legislation includes the defence being used for the offence of non-fatal strangulation.
the Department introduces legislation that ensures as a minimum parity of provision for non-fatal strangulation with England and Wales, so that victims in NI are provided with at least equal protection.
the Department works with the relevant public authorities and civil society organisations to systematically collect and publish data on non-fatal strangulation that is disaggregated by sex, gender, ethnicity, disability and age. It should also record the journey of non-fatal strangulation offences through the criminal justice system, including number of initial reports, number of referrals to the Public Prosecution Service, how many reach different stages of the court process, how many prosecutions occur, what is the resulting remedy and how many often offences are repeated.
the Department fulfils its obligations contained within the Istanbul Convention concerning research, awareness-raising, education and training of professionals.
the UK Government and NI Executive to fulfil their obligations outlined in the NI (Executive Formation etc.) Act 2019. The NIHRC continues to recommend the introduction of age appropriate and scientifically based reproductive and sexual health education that addresses the meaning of consent, healthy relationships and prevention of gender based violence. This will require cross departmental collaboration.
call upon the Department to introduce all recommendations within the Gillen Review as swiftly as possible.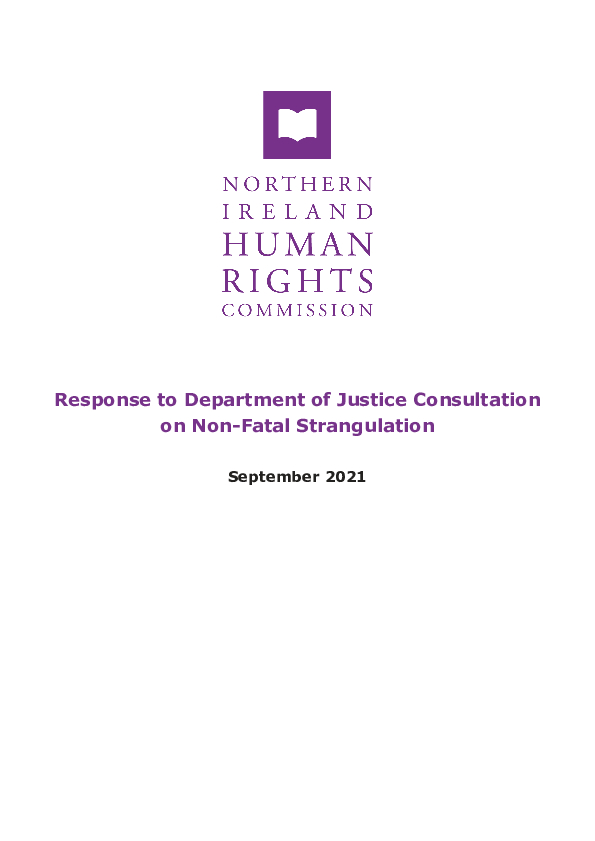 ---
---