NIHRC response to the Department for Communities call for evidence on its Housing Supply Strategy 2021
Last Updated: Tuesday, 20 July 2021
Date produced July 2021.
Below is a summary of the recommendations.
You can also download the full document through the links provided.
The NI Human Rights Commission:
The NIHRC recommends that any reform of the NI Housing Executive is progressed on the basis of meaningful consultation with tenants and other stakeholders.
The NIHRC recommends a rebalancing of housing provision in NI an increased focus on provision of publicly owned, social housing and increased regulation of the private rented housing sector.
The NIHRC recommends that the ending of so called 'right to buy' for housing association tenants be extended to NI Housing Executive properties. We also recommend that any schemes for discretionary or voluntary sale for social housing be restricted to reflect the necessity of retaining public housing assets.
The NIHRC recommends, as a minimum, the permanent retention of the uplift to the Local Housing Allowance (LHA) rate to the bottom 30th percentile and suggest DfC seek additional funding to increase the LHA further.
The NIHRC recommends the introduction of legislation to prohibit the discriminatory practice of refusing tenancies to those in receipt of social security benefits.
The NIHRC recommends the supplementing of the DfC target of 10% of new build housing being disability accessible by making more new build houses easily adaptable to become disability accessible in the future.
The NIHRC recommends recognising the cultural rights of the Irish Traveller Community to live their traditional lifestyle and to provide appropriate sites for Traveller accommodation with sufficient access to essential utilities.
NIHRC recommends further regulation of Houses of Multiple Occupancy and giving tenants greater rights to security of tenure in private rental housing and protection from no fault eviction.
The NIHRC recommends more consideration be given at planning and design stage for provision of greater private outdoor and public communal areas for increased socialising.
The NIHRC recommends the continuation and expansion of the 'Shared Housing Programme' whilst also ensuring that provision of house building and housing allocation being prioritised on need.
The NIHRC recommends utilising a number of initiatives to ensure both public and private housing in NI is as carbon neutral as possible.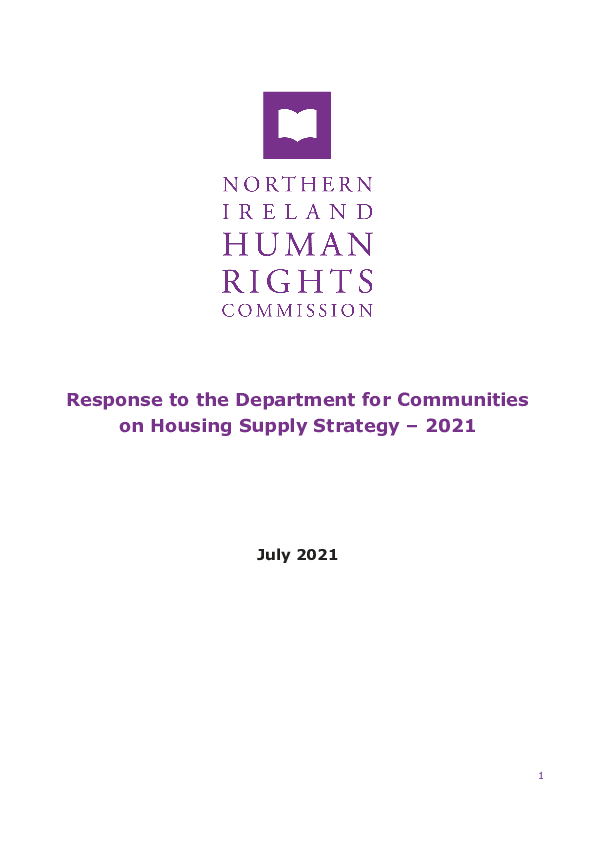 ---
---