Fact sheet: Human Rights Commission Legal Action on Lack of Abortion Services in NI
Last Updated: Monday, 19 April 2021
Date produced January 2021.
You can also download the full document through the links provided.
The Commission is arguing that the failure to commission and fund service giving effect to the Abortion (NI)(No.2) Regulations 2020 has resulted in women and girls not being able to access lawful abortions, a disproportionate interference with their rights under Article 8 ECHR.
The Commission has committed to: monitor the provision of reproductive healthcare services and education in Northern Ireland, following the introduction of a new legal framework for abortion, and engage with the Department of Health and Department of Education in accordance with the Northern Ireland (Executive Formation etc) Act 2019.
The Commission has undertaken the necessary discussions with key stakeholders to inform its monitoring project. In terms of the healthcare aspect this has included the Department of Health, Northern Ireland Office clinicians and managers providing the service, the regulator, Public Health Agency, Royal Colleges among others and conducted a roundtable with civil society organisations that both support and oppose the new law.
A report on healthcare is due to be published in 2021.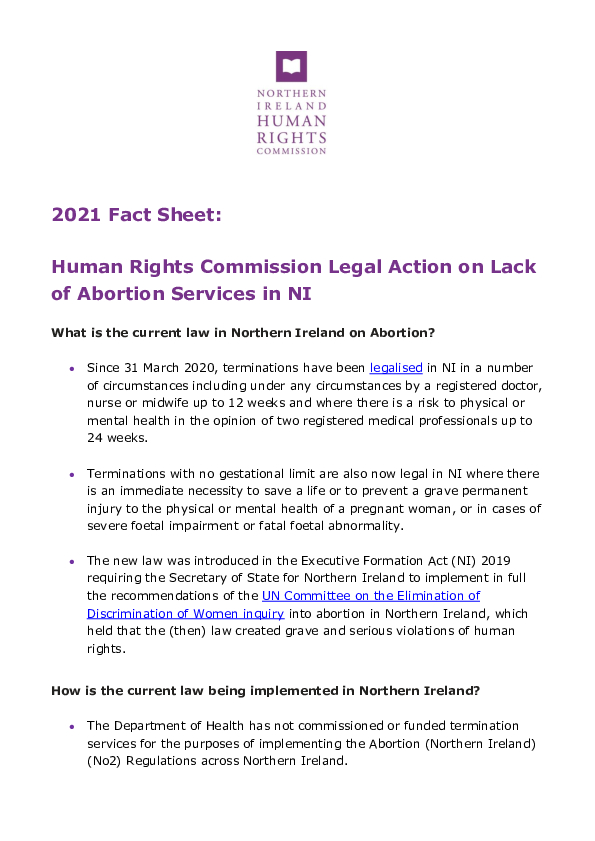 ---
---