NIHRC Submission to Department for Economy on Miscarriage Leave and Pay
Last Updated: Tuesday, 20 December 2022
Date produced December 2022.
Below is a summary of our recommendations and messages.
You can also download the full document through the links provided.
The Department for the Economy should monitor any developments in EU law relating to the Miscarriage Leave and Pay Regulations to ensure compliance with Protocol Article 2.
The regulations follow medical and legal terminology, and are applied broadly to ensure there is appropriate support available to those who are affected by the wide range of circumstances that result in pregnancy loss.
It should be clear that miscarriage leave can apply to women, trans men and other people who can experience pregnancy, including pregnancy partners, and in a way that reflects modern-day parental arrangements.
That the evidential and administrative requirements for a person intending to claim miscarriage leave and pay should be consistent with the requirements of other forms of bereavement leave, this includes keeping such requirements to a minimum and adopting a self-declaration model.
That the Department for the Economy ensures that the qualifying provisions in the new regulations do not negatively impact on people in temporary or precarious work and those on zero-hours contracts who may need to avail of miscarriage leave and pay. This will require a gender-sensitive approach to ensure that women are not disproportionately affected.
That the Department for the Economy carries out a thorough human rights impact assessment, including with respect to Protocol Article 2, regarding its miscarriage pay and leave proposals. This assessment should involve a detailed consideration of both the potential positive and negative impacts on each human right engaged by the proposals, drawing from the eight human rights treaties ratified by the UK as relevant.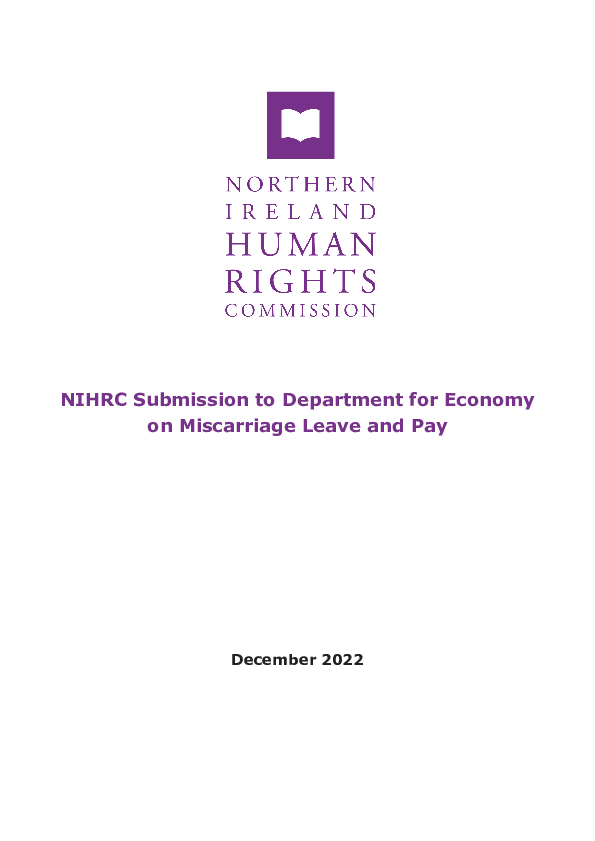 ---
---