NIHRC Supplementary Briefing: UK Government's Proposed Amendments to NI Troubles (Legacy and Reconciliation) Bill
Last Updated: Thursday, 19 January 2023
Date Produced January 2023
Summary recommendations/messages:
The UK Government's openness to making amendments is welcomed. However, even with the UK Government's announced amendments, the Northern Ireland Human Rights Commission's (NIHRC)[1] remains gravely concerned that the NI Troubles (Legacy and Reconciliation) Bill is not compliant with human rights. The NIHRC also remains concerned, that in light if its earlier advice, the UK Government has not taken the opportunity to specifically address compliance with Protocol Article 2.
Victims and survivors need to be genuinely at the centre of the NI Troubles (Legacy and Reconciliation) Bill, including ensuring that any resulting legislation has broad community support. The NIHRC remains concerned that this is not the case.
[1] The NIHRC, pursuant to section 69(1) of the Northern Ireland (NI) Act 1998, reviews the adequacy and effectiveness of law and practice relating to the protection of human rights in NI. The NIHRC is also required, under section 78A(1), to monitor the implementation of Article 2(1) of the Protocol on Ireland/NI of the UK-EU Withdrawal Agreement (Protocol Article 2).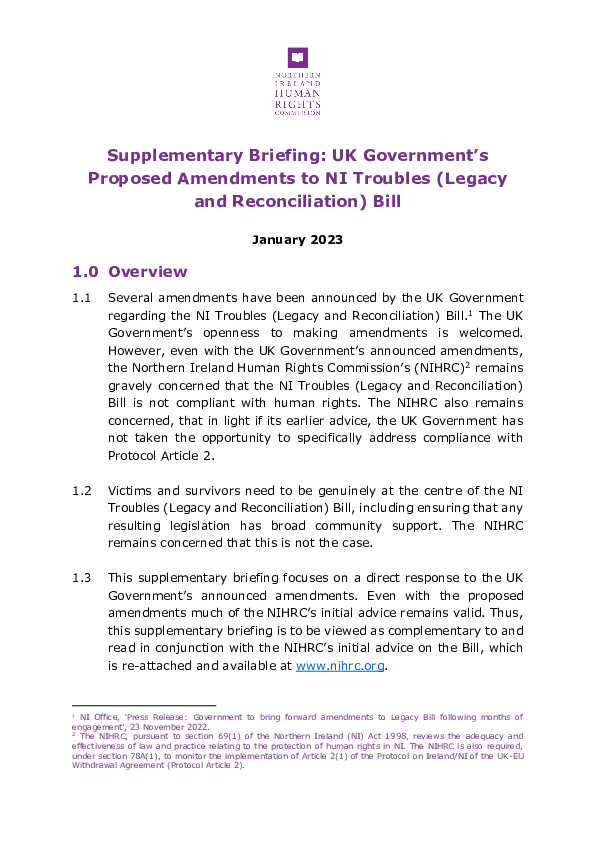 ---
---