Submission: Special Rapporteur on the Promotion of Truth, Justice, Reparation and Guarantees of Non-Recurrence
Last Updated: Monday, 19 April 2021
Read the Commission's submission Special Rapporteur on the Promotion of Truth, Justice, Reparation and Guarantees of Non-Recurrence: Follow up report on country visits
Questionnaire - United Kingdom of Great Britain and Northern Ireland.
Date produced January 2021.
Below is a summary of the recommendations contained in the report.
You can also download the full document through the links provided.
At the time of the final report, the new institutional set-up to address the legacy of the Troubles had been outlined in the Stormont House Agreement. It comprised an independent Historical Investigations Unit; an Independent Commission on Information Retrieval; an Oral History Archive; and an Implementation and Reconciliation Group.
With regards to these institutions,

Has the Historical Investigations Unit been granted independence, access to information and adequate funding to avoid problems of earlier mechanisms
Has the Implementation and Reconciliation Group been designed, staffed, funded and authorized to address the patterns, themes and structural dimensions of a conflict that cannot be properly understood or addressed as the sum of isolated cases?
Regarding the Oral History Archive, have issues of its independence and modalities of support to guarantee access and preservation of people's testimony been resolved?

Have links been established between the different elements of these institutions, such as their timeline, so that they can work as a coordinated whole?

Have measures been put in place to ensure that these institutions deliver results necessary for accounting for and redressing the past?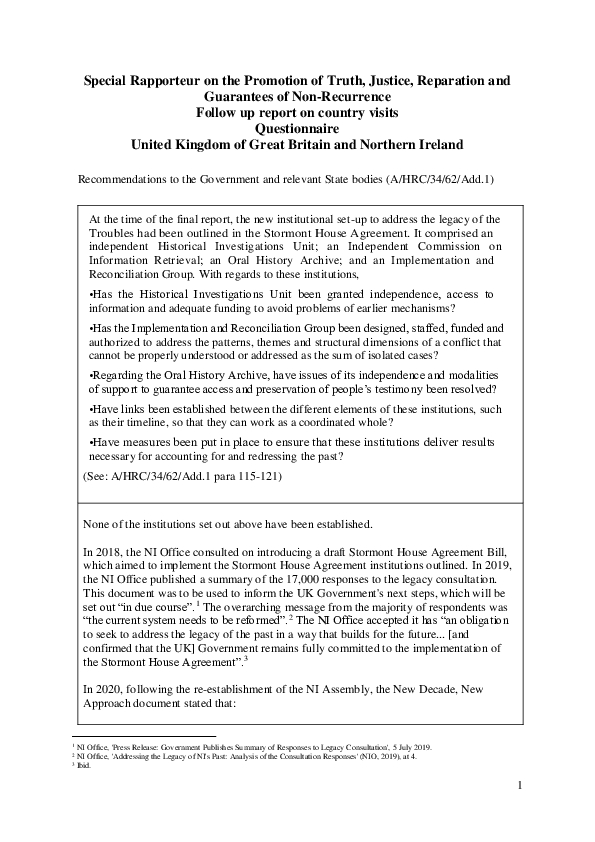 ---
---