Submission to the Department for Communities in Response to Their Equality Impact Assessment of the Draft Budget 2021-22
Last Updated: Monday, 19 April 2021
Read the Northern Ireland Human Rights Commission submission to the Department for Communities in response to their Equality Impact Assessment of the Draft Budget 2021-22.
Date produced February 2021.


Below is a summary of the recommendations contained in the report.


You can also download the full document through the links provided.

2.8 The NIHRC recommends that decisions regarding the budget for 2021-22 should reflect the best use of the maximum available resources and uphold the principle of non-retrogression.

2.14 The NIHRC recommends that the DfC address the support available for working households to address levels of in-work poverty.

2.24 The NIHRC recommends that the Department of Finance provide additional funding to the DfC to ensure that they can fulfil their statutory obligations and adequately meet the increased need for support for social security claimants.

2.25 The NIHRC recommends that the DfC take steps to mitigate the impact of delays on benefit claimants as a result of under staffing as soon as possible to ensure that those already in crisis are not pushed further into debt.

2.30 The NIHRC advises the Department that the New Mitigation Package, guided by the Cumulative Impact Assessment of Tax and Social Security Reforms commissioned by the NIHRC, would assist in redressing the regressive financial impacts of 2010 social security reforms.

2.36 The NIHRC recommends that the Independent Advice Sector receive adequate funding to ensure the continued effective provision of independent information and advice on social security benefits to those who require it most.

2.40 The NIHRC recommends that the Social Sector Size Criteria and Benefit Cap for families mitigations continue and that the Social Sector Size Criteria gaps in mitigations are resolved.

3.12 The NIHRC recommends that the UK government repeal the two-child limit and in the interim the NI Executive provides mitigation measures to deal with this provision.

3.13 The NIHRC recommends the Executive Office produce a Childcare Strategy in line with its commitments under New Decade New Approach, and commits funding to financially support the cost of childcare.

3.20 The NIHRC recommends that the DoF implement the additional £20 payment to low income households with a person with a disability, as reflected in the New Mitigation package recommended by the NIHRC, to offset the disproportionate losses to annual income experienced by households with disabilities because of tax and social security reforms since 2010.

3.26 The NIHRC recommends that the NI Executive commit to the uplift to the Carer's Allowance to support carers with the additional impact of Covid-19 on their caring responsibilities.

3.32 The NIHRC advises that social security measures already have a disproportionate adverse impact on certain Section 75 categories. Any policies taken forward that have a disproportionately adverse impact on certain groups as a result of the flat resource budget must be justified, necessary, proportionate and temporary, in line with international human rights standards.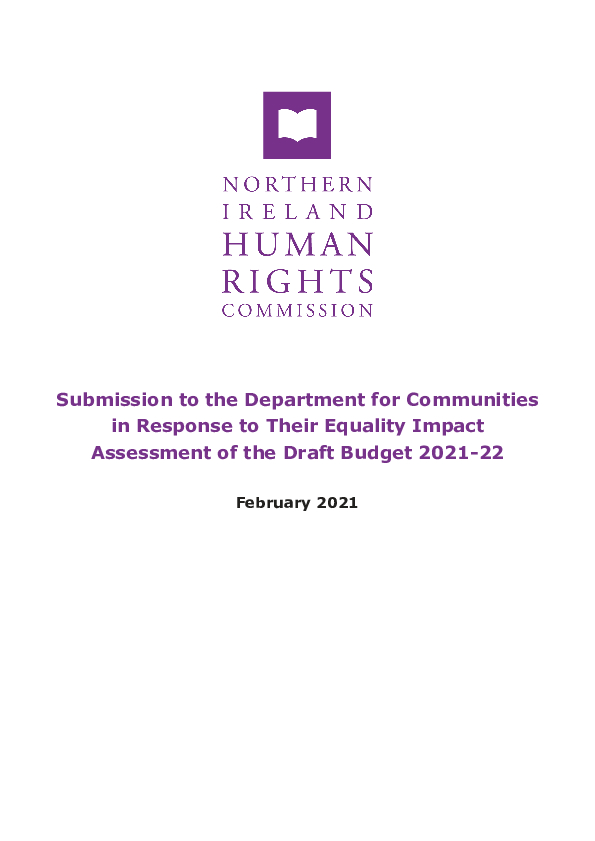 ---
---