Submission to the Committee for Justice call for evidence on the Protection from Stalking Bill
Last Updated: Friday, 23 April 2021
Date produced April 2021.
Below is a summary of the recommendations.
You can also download the full document through the links provided.
The NI Human Rights Commission (NIHRC):
2.5 continues to call on the UK Government to ratify the Istanbul Convention and advises the Department to continue to work with the UK Government on achieving this goal.
2.10 continues to call on the Department to be effectively resourced in order to fully implement the Gillen Report Recommendations.
2.11 recommends the Department consider a public awareness campaign to raise awareness of what constitutes the offence of stalking and the consequences of committing the offence.
2.14 continues to recommend the Department introduces a specific criminal offence of upskirting in Northern Ireland and ensures effective protection of victims or potential victims without further delay.
3.11 recommends the Department consider amending the Bill to clarify that behaviour amounting to stalking offences must be satisfied after the change in legislation for the application for a Stalking Prevention Order. Only then can previous behaviour be considered retrospective of the change in law.
2.15 recommends the Department provide clarity around how rehabilitation of offender legislation will apply to stalking offenders.
4.3 recommends that the Department works with the relevant public authorities and civil society organisations to systematically collect and publish data on stalking that is disaggregated by sex, gender, ethnicity, disability and age. It should also record the journey of stalking investigations through the criminal justice system, including the number of initial reports, number of referrals to the Public Prosecution Service, how many reach different stages of the court process, how many result in prosecutions, what is the resulting remedy and how many repeat offences occur.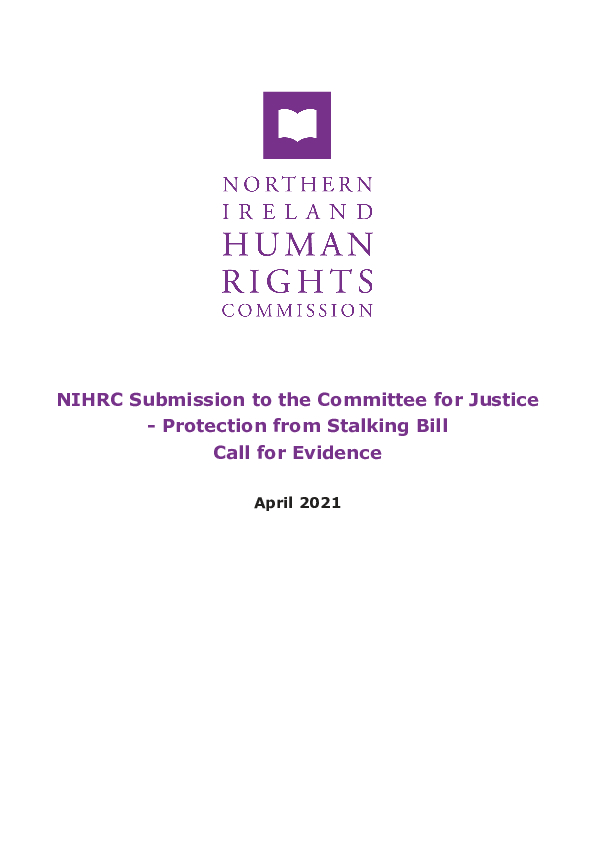 ---
---